Essential questions to ask and answer about streaming music in your place of business
Since the pre-pandemic times, music has been essential to any business. The guests that visit your business and locations are used to a specific look and feel of the space they expect of your brand.
The choice of music often falls to the manager or some employees. That means that the technical part of choosing the music and managing the playlist impacts how much time and energy you can spend on the things that matter most – your guests and the experience they have.
Not only that, but the legality of the issue also comes into mind when you are playing music in a business environment via your mobile phone, tablet, or some other device using internet streaming services without appropriate licensing for business purposes.
1. How do you choose the right music for your business to fit into your brand?
There is no simple answer to this question, but there are some clear guidelines you can use and follow to get your business to where it needs to be in terms of musical choice, brand identity, and guest experience. Imagine a hotel lobby or reception, where guests spend time on their check-in/out or waiting in the lobby before dinner in your restaurant. There are better choices here than playing rock or techno music. But even with an example as evident, the natural vibe you want to create might be a bit out of reach for your reception employees or the f&b manager.
Meridian Chapters help you bring the right choice of music to the right people in the right places. Think of your ideal and actual customers and the feeling they want to have while spending their time in your location. They want to feel welcome and comfortable spending time there and ultimately some money and have a great experience in the things you offer them.
Think about all the investments made into the visual experience of your hotel, the decor, the walls, the lighting… Why should music be the overlooked factor in creating your complete experience?
Even if you have a great playlist or mix in mind, don't forget about your staff, who spend more time in the hotel than the guests. Nobody wants to listen to the same music on repeat!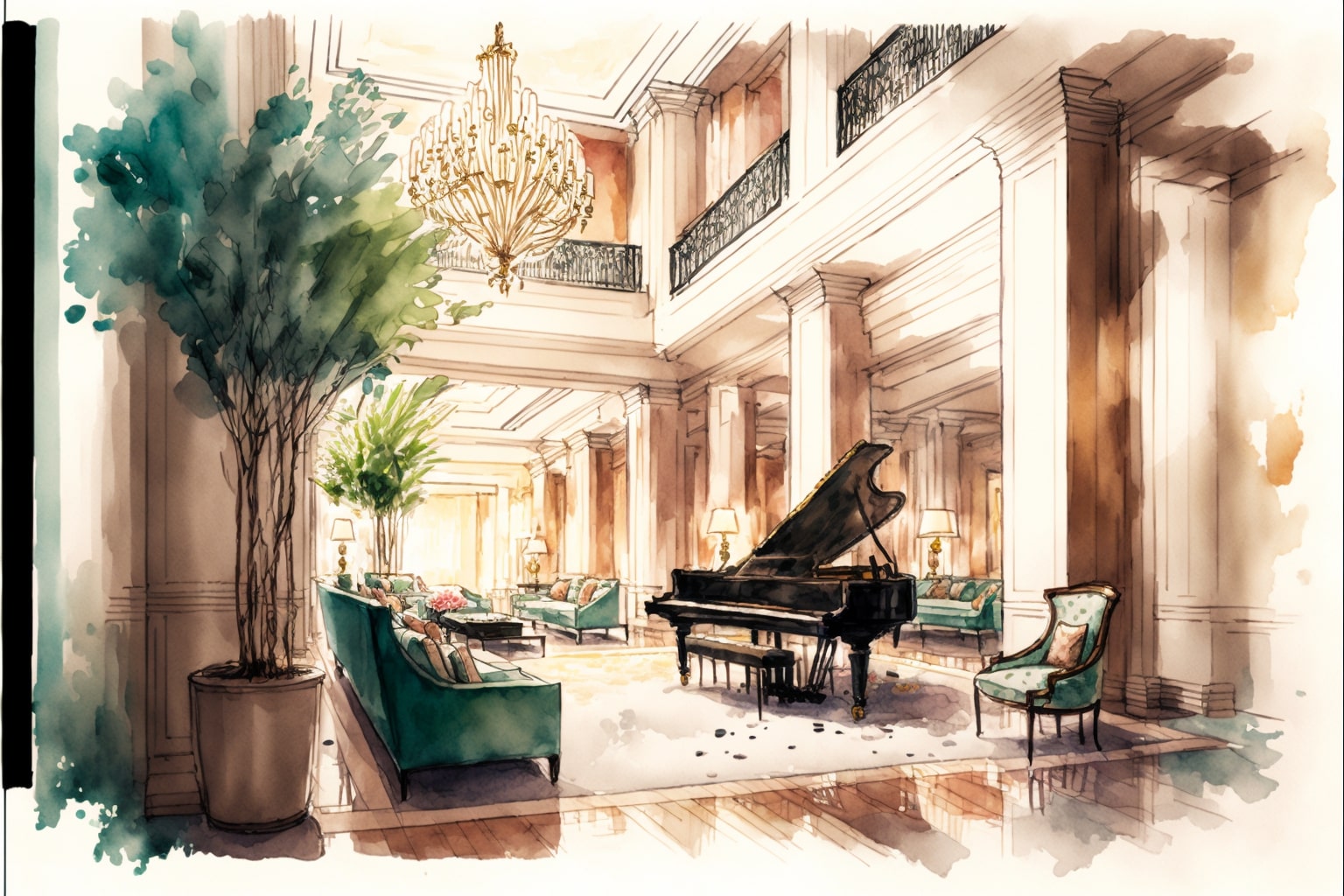 2. Should different types of businesses have different approaches to choosing music?
Yes, not all hotels are of the same type. Some are more family-oriented, some are more luxury-oriented, and others cater to a younger audience.
Every place is different and unique in specific ways and aspects of the business. All business types should consider the quality of music and the choice of playlists, matching the energy levels to the times of the day.
Either speed up music to raise the energy of a venue, or slow down and have a more careful and deliberate approach to keep your guests having a good time just a bit longer.
We care for the playlists, so you don't have to worry about the pacing, genres, and updates. Our service is ad-free, so no interruptions and announcements are made on your premises unless you want some custom ads playing for your type of business!
3. What's the difference between royalty-free music and Meridian Chapters?
Royalty-free music has one advantage: the music doesn't need to be licensed to play in your location.
But your guests will only hear non-familiar and not-so-well-known music. The revenue loss that can incur because your guests aren't enjoying the musical experience of your hotel is far more expensive than using a premium service such as ours.
Licensed music is the better choice for your business and brand image. There is greater variety in customizing the playlists and the feeling of listening to a great song. Even discovering new music is a great ordeal for your brand.
Using royalty-free will hinder your ability to customize and fine-tune your music because the choices are limited.
4. How does the technical part impact music playing in your location?
When all the details are well-put together, the music you play in your location is the cherry on top. Your branding comes full circle to make an impact.
For all of it to work together, we can provide technical support and consultancy to give you the best ideas and choices for your music and unique location. The technical part of implementing, visualizing, and designing the space is done through our partner company, working mainly with the Bose sound system.
We are careful about the signal quality and have a higher streaming rate to minimize your music system's effort to play the music at the right volume. Your music should be present in all areas but never overwhelming or too silent to notice.
Speaker distribution plays a big part in this factor because, in fewer well places, ceiling flush speakers will have better distribution than a small stereo system with its volume cranked up to reach the spaces in the back or further away from the speaker system.
5. Why can't I use YouTube, Spotify, or another streaming service for my music?
There are copyright laws that prevent any commercial business from using a personal streaming service (Youtube, Spotify, etc.), which means you are eligible to get fined by the authorities depending on which music streaming service you use.
There is a difference between playing music in your car, at home, or on your phone vs. playing music in a commercial setting because the latter is helping your business goal of making money.
Meridian Chapters takes care of the streaming fees, so you can rely on us to clarify this. The music streaming services people personally use pay different licenses to be able to stream or play in a commercial setting.
Meridian Chapters track the playlists being streamed and pays our share of the licensing fee to the central authority, which then distributes the streaming fees to the artists and record labels whose music is being streamed and played in your venue.
There are more advantages to using a professional streaming service. Besides being ad-free, which means no interruptions in your venue, licensed music streaming can bring the best mood to your music identity based on the time of day, special occasions, and brand identity.
6. How do I know if I chose the right music for my business?
One of the most significant success predictors in this range is when your guests are commenting and commending your music choices and trying to find out which songs are playing.
Another good predictor is when the music choice increases your guests' engagement with your employees and comments on the quality of the music
Feel free to experiment with different channels, but only do so when you have the right core choice for every zone your venue has.
Your staff can also give good feedback on the music the guests enjoy most and how they spend their time.
And also, remember that if your team is happy with the music choices, they will be more likely to engage with the guests and offer an even better experience overall! Well-chosen music can have a significant impact on your bottom line.
To wrap up, choosing the best music for your hotel is a task to put some effort into. The music playing in the background of your shared spaces should reflect the branding and vision of your hotel and business.
These requirements are relevant to everyone, and here at Meridian Chapters, we provide the wow factor to your guests' experience through the power of music.
We tailor our playlists to improve the guest's overall experience, and with our state-of-the-art media players, it's easy for hotels to implement and manage our services.
With our help, hotels can offer the perfect background music to improve the guest's experience in every area, from the spa to the gym. If you are interested in our services, please get in touch with us today to get a quote.